Bushings and Plain Bearings - Overview
Bushings, also known as "Plain Bearings" or "Sleeve Bearings," are designed for use in numerous applications and offer features and benefits unavailable with many rolling-element bearings. Bushings (plain bearings) are distinguished from rolling-element bearings primarily by the fact that they consist of only one part. That one part may be built up of different materials, layered and combined into a load carrying system. Depending on the application, bushings are available for operation with supplemental lubrication or to run "dry", with no additional lubrication. Bushings are available impregnated with lubricant, with lubricant "plug" inserts, or with inherently low coefficients of friction. Bushing materials include cast or machined metals, stabilized polymers ("plastics"), fiber-wound composites, and combinations of different types of materials. Selecting the right bushing for each project requires detailed knowledge of the application requirements and experience with bushing technology. AST's bearing experts are available to help with advice and guidance to make the selection process as easy as possible.
The Self-Lubricating Bushing Concept
Self-lubricating bushings are used where the bearing must operate without lubricant or with marginal lubricant. Our focus is on ensuring that the bearing gives the best performance and the longest life under various conditions. The working principle of self-lubricating bearings is that, during the initial run-in period of the bearing, there will be a solid lubricating film created by the transfer of a small amount of material from the bearing layer. This film directly contacts the moving parts, protecting and lubricating the mating components and extending the service life of the bearing.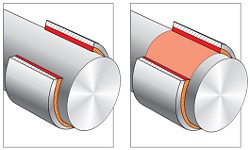 Bearings Catalog
Check out our online product catalog with more than 10,000 products with full specifications & 3D CAD Models available for download - all free of charge!
The Advantages of Self-Lubricating Bushings
Elimination Of Oil Holes And Grooves - Cost for machining oil holes and oil grooves is unnecessary. Self-lubricating eliminates the need for the extra oiling system.
Reduction Of The Machinery Running Cost - With maintenance free features, the lubricant oil is dramatically reduced; machinery running cost will also be decreased.
Maintenance Free Operation - Self-lubricating bearings solve the problem of oiling operation and oiling devices, also saving bearing maintenance costs.
Simplified Mechanical Design And Manufacture - With above advantages, thin wall thickness, higher load, and excellent wear resistance, mechanical designs can be simplified and made more economical.
The Environment Is Protected - The self-lubricating bearing materials work without oil and meet the ROHS directive.
Metal-Polymer Composite Bushings (Plain Bearings)
AST has successfully supplied PTFE and thermoplastic metal-polymer bushings to the market since the very beginning. They consist of metal backing bonded to a porous bronze sintered layer with a PTFE or thermoplastic based Polymer bearing lining layer. The metal backing provides mechanical strength while the bronze sintered layer provides a strong mechanical bond between the backing and the bearing lining. The PTFE based polymer offers exceptionally low friction even under dry conditions and the thermoplastic based polymer is designed for operating with marginal lubrication. This structure promotes dimensional stability and improves thermal conductivity.
Bi-metallic Composite Bushings
Bi-metallic material shells cover self-lubricated AST850 series and pre-lubricated AST800 series bushings. The AST850 series combines a bi-metallic shell backed with a sintered bronze alloy which is uniformly dispersed with solid lubricants. This bearing layer offers low friction and good performance under limited lubrication. The AST800 series has a steel shell backed with a lead bronze lining material for oil/grease lubricated applications. These bearing structures provide high load capacity with good fatigue properties. Tighter tolerance control can be achieved by re-machining the assembled bearing.
Bronze Wrapped Bushings
These bushings are wrapped from a cold formed homogenous bronze (CuSn8) with exceptional material properties. Depending on the lubrication conditions, the bearing can be provided with diamond shaped lubricant indents (for grease) or through holes (for grease or oil). With this design, a lubricant film rapidly builds up during the initial run-in period of the mating parts and thereafter running friction is considerably reduced. The AST090G material has graphite embedded into the diamond indentations to provide good lubrication conditions on start-up, even when operated with no added lubrication. This bearing design provides high load carrying capacity, good fatigue properties, dimensional stability, and improved thermal conductivity. Tighter tolerance control can be achieved by re-machining the assembled bearing.
Metallic Self-lubricating Bushings
Metallic bushing materials consist of high strength metal backing embedded with solid lubricants. The metal provides high load capacity and the solid lubricants provide low friction during operation. These bushings are precision machined with tighter tolerance to provide accurate fits after installation. This bearing design provides high load carrying capacity, good fatigue properties, dimensional stability, and improved thermal conductivity. Tighter tolerance control can be achieved by re-machining the assembled bearing.
Filament Wound Plastic Self-lubricating Bushings
AST CR series composite bushings consist of a continuous-wound glass fiber encapsulated in a high temperature epoxy resin with a variety of low friction wear resistant bearing linings. The reinforced composite structure enables the bearing to support high static and dynamic loads while providing excellent wear resistance. This bearing can be used for extremely high impact load applications and in highly corrosive media.
Injection Molded Plastic Self-lubricating Bushings
AST-EPB plastic bushings are made of a variety of resins combined with reinforcing fibers and solid lubricants to provide excellent wear resistance and low friction in both dry and lubricated operating conditions over a wide range of applications. EPB material is an economic solution for mass production designs.